Locandina italiana originale di Blade Runner. The director's cut (1992)
Stasera le Officine Cinematografiche e il Centro Popolare Autogestito
Firenze Sud saranno liete di presentare il capolavoro di Ridley Scott
"BLADE RUNNER" director's cut del 1991 (NB: proiezione in pellicola
cinematografica 35 millimetri). CPA Cinema: via di Villamagna 27/a
(zona Gavinana, vicino all'acquedotto) Firenze (bus 3, 8, 23, 31, 32,
33). 2° piano. Ingresso 2€. Sala riscaldata, poltroncine imbottite.
Trailer (director's cut)
Scansioni

Blade Runner Sketchbook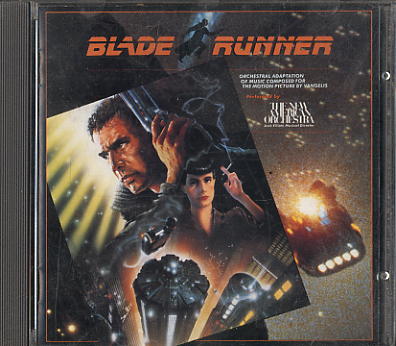 Blade Runner audio CD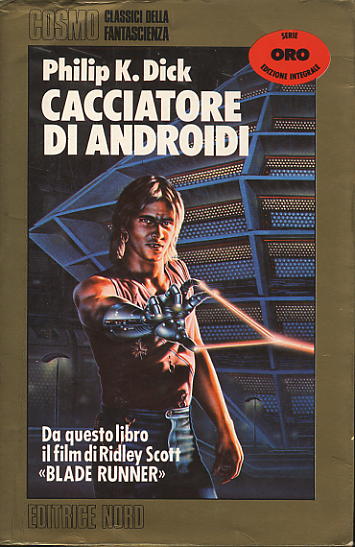 Cacciatore di androidi
Clicca sul link qui sotto per entrare nell'album contenente le
scansioni del "Blade Runner sketchbook", della copertina di "Cacciatore
di androidi" di Philip K. Dick (Editrice Nord) e della copertina del cd
della colona sonora del film
Potete trovare il testo originale (in lingua inglese) del romanzo "Cacciatore di androidi" (Do Androids Dream of Electric Sheep? – Gli androidi sognano le pecore elettriche? e' il romanzo da cui e' stata tratta la sceneggiatura del film) QUI:
dick_phillip_k_do_androids_dream_of_electric_sheep.txt
Blade Runner – director's cut (1991), versione italiana;
inizio proiezione ore 22.30 (puntuali che lo zio Jo non puo' fare tardi);
pellicola 35mm, schermo panoramico;
food & drinks by Ale e Sara.
Se volete cenare al cippi venite un po' prima per segnarvi nella lista della cena!
Saluti dal vostro affezionatissimo.
THX
link
Blade Runner-related Essays and Miscellanea: http://scribble.com/uwi/br/off-world.html
The Official Blade Runner On-line Magazine: http://www.devo.com/bladerunner/
BRmovie.com: Blade Runner Souvenir Magazine – Official Collector's Edition: http://brmovie.com/Magazine/BR_Magazine_P03.htm
Delos 17. I segreti di Blade Runner: http://www.delos.fantascienza.com/delos17/segreti.html
Delos 17. Alla ricerca di Blade Runner: http://www.delos.fantascienza.com/delos17/matrix.html
BLADE RUNNER Frequently Asked Questions (FAQ): http://www.faqs.org/faqs/movies/bladerunner-faq/
The home of Blade Runner: http://www.brmovie.com/
Speciale Blade Runner: http://www.brmovie.com/
Blade Runner – The Replicant Site: http://www.blade-runner.it/index.asp?page=/film.html
Blade Runner Collection: http://www.st.rim.or.jp/~kimu/br/
The Blade Runner Webring: http://s.webring.com/hub?ring=bladerunner
Philip K. Dick – Science Fiction Author – Official Site: http://www.philipkdick.com/
***FOR DICKHEADS ONLY!!!*** Dedicato a Phil Dick: http://www.geocities.com/snoyd2001/anti2.html
The Blade Runner experience: http://books.google.it/books?id=vD37sx0BS9QC&printsec=frontcover&dq=The+Blade+Runner+Experience&sig=8p7izRAxWiHOhZdb46R06yLYcpc
Blade Runner su Wikipedia: http://it.wikipedia.org/wiki/Blade_Runner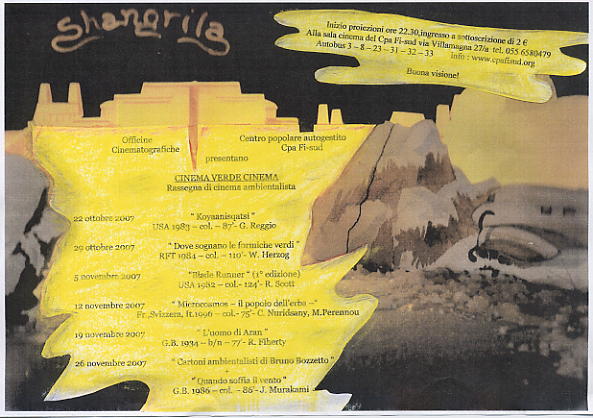 Flyer della rassegna "Cinema verde cinema" realizzato da Rita