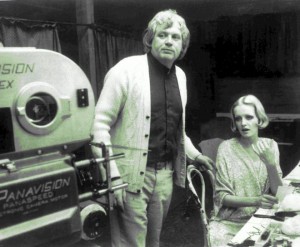 Ken Russell con la modella Twiggy
Il famoso regista britannico Ken Russell è morto all'età di 84 anni. Lo ha indicato il figlio a The Telegraph, che lo rende noto su Twitter. Nato a Southampton nel 1927, Russell è diventato famoso internazionalmente nel 1969 con il suo "Women in Love" (Donne in Amore), adattato dall'omonimo romanzo di D. H. Lawrence, con Glenda Jackson e Oliver Reed. Il film, che a suo tempo fece scandalo (tra l'altro per una famosa scena di lotta tra due uomini nudi) ottenne una serie di nomination gli Oscar, tra cui quella per il miglior regista. Ma ad ottenere la statuetta fu soltanto la Jackson in quanto miglior attrice protagonista.
Altri film di Russell sono tra l'altro "The Music Lovers" (L'altra faccia dell'amore) dedicato alla vita di Piotr Ilic Cajkovskij, "Tommy", ispirato all'opera rock di The Who, "Lisztomania", un'altra opera rock.
fonte http://www.ilmessaggero.it/articolo.php?id=171371&sez=HOME_CINEMA
I diavoli (download torrent file)